En 2008 la canadiense Stephanie Gray descubrió esta verdad: Love unleashes life, que podríamos traducir por el amor produce vida a rienda suelta. Ese año conoció a María, una bebé de seis meses que había sido enviada al hospital donde ella, Stephanie, y su madre hacían voluntariado. La bebé llegó con muchos problemas médicos. Apenas respondía a los estímulos. Pero de repente, todo cambió. Empezó a recibir besos y cariño. Le cantaban. Y entonces, por primera vez, la bebé sonrió.
Experta conferenciante provida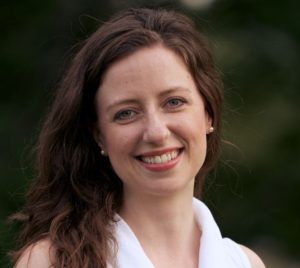 Hoy en día, tal y como lo explica en su web, Stephanie Gray es una conferenciante internacional provida, con más de 800 presentaciones en varios países: su natal Canadá, Estados Unidos, Gran Bretaña, Costa Rica y otros más. Hablando sobre el aborto, se ha encontrado con muchas personas solas, quebrantadas y maltratadas. Y está convencida de la verdad que encontró esa vez, que el amor produce vida a rienda suelta.
Es un concepto. Una idea. Y cuando es aplicada al encuentro con nuestros prójimos es transformadora.
Esta idea, desarrollada, dio como fruto el libro Love Unleashes Life: Abortion and the Art of Communicating Truth. Se trata de una guía práctica para entrenar a los lectores a tener encuentros persuasivos y a la vez compasivos cuando discutan sobre el aborto.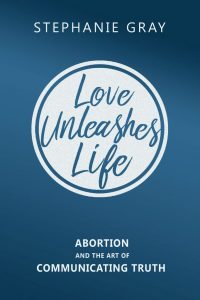 Lila Rose, una de las más famosas activistas provida, ha dicho del libro: «Es obligatorio para cualquiera interesado en que llegue a los corazones y las mentes la cuestión sobre derechos humanos más grande de nuestros días. Con claridad y compasión, Stephanie hace una argumentación irrefutable a favor de la vida y nos prepara a nosotros con maestría para hacer lo mismo».
Charlas en Google
El vídeo que hemos puesto arriba es una exposición que Stephanie Gray hace de estas mismas ideas en una de las Talks at Google (Charlas en Google). En inglés se llama Abortion: From Controversy to Civility. Hemos querido traducirlo por El aborto: de la controversia a la buena educación. Como dice la descripción del vídeo, Sthepanie «aplica el método socrático y el storytelling al debate alrededor del aborto. Invita a la audiencia a ser "pro-conversación" en un tema que puede ser el que más causa divisiones. Y demuestra que es posible ser amable y respetuoso cuando uno se encuentra ideas diferentes». Te dejamos un resumen con ideas clave del vídeo, animándote a que lo mires completo 😉
Algunas ideas
Después de que Stephanie habló con muchas personas y les preguntó quién los inspira y por qué, llegó a una conclusión. Que las personas que logran inspirar son personas que han sufrido de cierta manera. Tienen dificultades, obstáculos. Pero se diferencian del resto por cómo responden al sufrimiento. Ellas comparten por lo menos tres características: 1. Ponen a los otros antes que a ellos mismos. 2. Tienen perspectiva de futuro. 3. Hacen lo correcto incluso cuando es difícil. Sea cual sea la perspectiva política de uno, el amor es universalmente atractivo. Poner a los demás antes que nosotros mismos es eso. Buscar el bien de la otra persona. Si piensas «¿cómo me va a afectar esto a mí?» es egoísta, centrado en uno mismo. En cambio, si piensas «¿cómo va a afectar esto a los otros?» estás centrado en los demás. Es mucho más fácil pensar en uno mismo, pero esa actitud no es atractiva y no inspira. Stephanie usa estos tres puntos para hablar sobre todos los temas polémicos relativos al aborto y les da un giro que cambia nuestra forma de pensar sobre el tema.